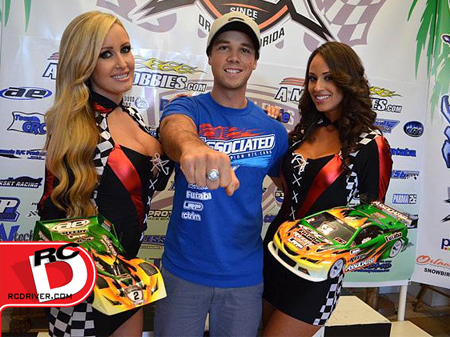 The Snowbird Nationals, now in its 20th year, continues to be one of the biggest on-road events in the world with over 600 entries spread across a variety of oval and road racing classes. The enthusiastic racers faced long days but the venues location near Orlando, Florida meant that there was plenty to do between heats and when racing was completed for the day.
While it was not uncommon for a driver to compete in four or more classes, Reedy/AE factory driver Keven Hébert settled on three so that he could better focus on those that he is most familiar with – Modified TC, 1/12 Modified, and Super Stock 13.5 TC. This strategy proved to be a smart one!
In the Super Stock 13.5 TC class, Keven and his Reedy-powered TC6.2 grabbed the top spot by the end of round three and held on to claim the pole position for the A-Main event. Starting up front allowed Keven to pull out a comfortable lead while the remaining drivers battled for position. By the end of the race, Keven had extended his lead to half a lap and crossed the line for another impressive win in this highly competitive class.
Hébert was also highly successful in the Modified classes. Thanks to his finishes in the Modified TC and 1/12 Modified main events, he was crowned the 2014 Snowbird Nationals On-Road Champion. The highly coveted championship ring that was presented to Keven during the awards presentation will make a proud addition to his trophy collection.
Current 1/12 World Champion Naoto Matsukura was a last-minute and welcome addition to the 1/12 Super Stock 13.5 class. Powered by Reedy motors and batteries, Naoto grabbed the lead before the race was half way in and never looked back to take the win and the single fastest lap of the race.
Special thanks to race organizer Mike Boylan for hosting another memorable event and to the 600+ entrants who make this event one of the most prestigious of the year!
Products used:
Super Stock 13.5 TC
#233 Reedy Sonic 540 Mach 2 13.5T
#313 Reedy 65C 7000mAh 7.4V
#30109 TC6.2 Factory Team
Super Stock 13.5 1/12
#233 Reedy Sonic 540 Mach 2 13.5T
#312 Reedy 65C 7000mAh 3.7V
Modified TC
#243 Reedy Sonic 540 Mach 2 5.0T
#739 Reedy Wolfpack 60C 5500mAh 7.4V
Prototype – Reedy BLACKBOX ESC
#30109 TC6.2 Factory Team
Modified 1/12
#246 Reedy Sonic 540 Mach 2 3.5T
#312 Reedy 65C 7000mAh 3.7V
Prototype – Reedy BLACKBOX ESC
#4020 RC12R5.2 Factory Team Kit
Link: www.rc10.com