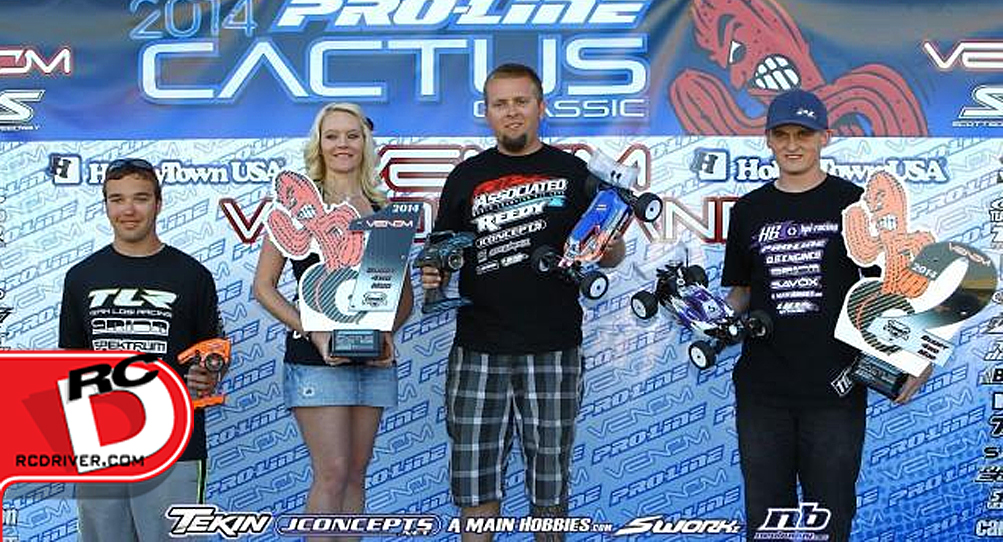 The Pro-Line Cactus Classic attracts drivers from around the world to Scottsdale, Arizona every year for a week of intense competition. The event, now in its 28th year, remains one of the most popular and prestigious, thanks to an extremely high level of competition, exciting track layouts, and beautiful weather.
Most will agree that in the 4WD Modified class there is no faster driver than Ryan Maifield. Ryan had won the class in his previous three visits and had his sights set on his fourth win in a row. Driving a Reedy-powered B44.2, Ryan kept his winning hopes alive by qualifying in the fourth position which, assuming no first-turn pile-ups, would keep him in touch with the front three.
In the first leg of the A Main, Maifield grabbed the lead by lap five and maintained his lead until the end. A win in leg two would seal the overall victory, but a mistake while leading crushed his chances, which meant he would have to deliver in leg three. And deliver he did! A solid second-place finish combined with his win in the first leg gave him the overall win for an incredible four years in a row.
Reedy drivers were well represented, with Carson Wernimont, Kody Numedahl, and Daimon Borkowicz joining Maifield in the A Main. All utilized Sonic 540 Mach 2 motors, Reedy LiPo batteries, and the all-new BLACKBOX ESC (excluding Borkowicz). Congratulations, drivers!
Products used:
Ryan Maifield
#241 Reedy Sonic 540 Mach 2 6.0T
#737 Reedy WolfPack 4800mAh 25C 7.4V SP
Prototype – Reedy BLACKBOX ESC
#29166 XP DS1313 Digital Servo
#9062 Factory Team B44.2
Link: www.rc10.com