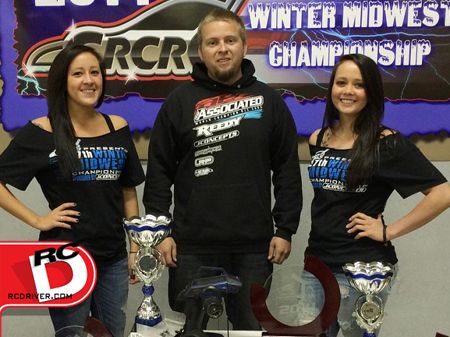 For the 27th year in a row the Columbus Radio Control Racing Club (CRCRC) has hosted the Winter Midwest Championships in the beginning of January. For the past few years the event has been hosted about one hour South of Columbus in Jeffersonville at The Ohio RC Factory. The club ("The Factory" as it's known to the locals) challenges the racers with technical track features composed of a traditional indoor clay surface. With over 480 entries and 44 heats of racing, the event is as popular as it's ever been.
Team Associated was well represented at the event with regional representation including Brandon Marsh, Mike Gay, Barry Goodwin, Alex Miller, Greg Niklas, Scotty Ernst, Nick Gibson, and Ben Ellis. Joining them from the West coast were Ryan Cavalieri, Ryan Maifield, Tanner Denney and Team Manager Brent Thielke. With a wide assortment of classes for everyone, the racing was hot and heavy, highlighted by over 130 entries in 2WD Modified Buggy.
As qualifying got underway on Friday, it was Team Associated/Reedy driver Ryan Maifield who showed that he was the man to beat. Setting an early tone by running the fastest times in 2WD, 4WD, and 2WD SCT Modified, the Arizona native had his vehicles dialed in. By the time the main events rolled around on Sunday afternoon, Maifield found himself on pole for the three top classes at the event.
With wins in A1 and A2 of 2WD Modified Buggy and 2WD Short Course Modified, Maifield claimed his first two titles of the weekend. In 4WD Modified Maifield took the wins in A1 and A3 to secure his third championship of the event. Also taking a win for Team Associated was Rudy Rico in 2WD Stock Buggy with his B4.2 Factory Team buggy.
Congratulations to Ryan Maifield on his three titles and a big "Thank You" to the entire CRCRC and Ohio RC Factory crew for another great event.
Link: www.rc10.com